TRP-Tri-COX Minis 120 count
Joint Supplement to help with mobility and flexibility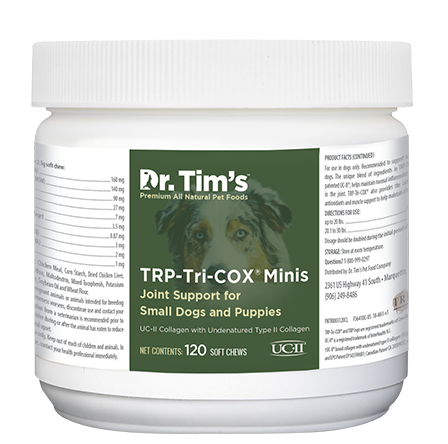 SUPERIOR ANTIOXIDANT PROTECTION
Astaxanthin and boswellia extract provide superior protection and anti-inflammatory protection
MULTIPLE USES FOR JOINT SUPPORT
Great for small dogs and puppies with joint and hip conditions, arthritis and exercise recovery
CHICKEN FLAVORED
Tasty real chicken flavor for use as an everyday treat, reward or snack
OPTIMUM MOBILITY AND FLEXIBILITY
Use daily with your canine to help alleviate joint pain and support joint health
TRP-Tri-COX Minis
Help keep your dog's joints in tip-top shape with Dr. Tim's TRP-Tri-COX Joint Support Dog Supplement. It's formulated to help alleviate joint pain and support joint health for optimum mobility and flexibility, with a synergistic blend of active ingredients like glucosamine, MSM and collagen for healthy cartilage. Every tasty, soft chew is packed with boswellia extract to combat inflammation, and astaxanthin for powerful antioxidant protection.
They're ideal for smaller dogs, puppies, canine athletes and working dogs, to help maintain supple joints and ease discomfort caused by joint conditions, exercise or training.
Ingredients
Per 2.5g soft chew:
Glucosamine HCI (shellfish) – 160 mg; methylsulfonylmethane (MSM) – 140 mg; creatine monohydrate – 90 mg; bromelain – 27 mg; Boswellia serrata extract – 7 mg; UC-II Standardized Cartilage® 3.5 mg; total collagen - .87 mg; Eicosapentaenoic Acid (EPA) – 2 mg; Docosahexaenoic Acid (DHA) – 1 mg; Astaxanthin 2% - 1 mg
Inactive Ingredients: chicken meal, corn starch, dried chicken liver, glycerin, lactic acid, lecithin, maltodextrin, mixed tocopherols, potassium sorbate, sodium benzoate, soybean oil and wheat flour
Directions
For use in Dogs only. Recommended to support healthy joint function in dogs. The unique blend of ingredients in TRP-Tri-COX®, including the patented UC-II®, helps maintain normal inflammatory and immune response in the joint. TRP-Tri-COX® also provides the cartilage building blocks, antioxidants and muscle support to help maintain a healthy joint function.
Dog Weight/Number of Chews
Up to 20 lbs – ½ chew per day
20.1 to 30 lbs – 1 chew per day
Dosage should be doubled during the initial period of 4 to 6 weeks.
Cautions: Safe use in pregnant animals or animals intended for breeding has not been proven. If lameness worsens, discontinue use and contact your veterinarian. An examination from a veterinarian is recommended prior to using this product. Administer before or after the animal has eaten to reduce incidence of gastrointestinal upset.
Storage: Store at room temperature