Synovial Flex Advanced™ MINI
Joint Supplement to help with mobility and flexibility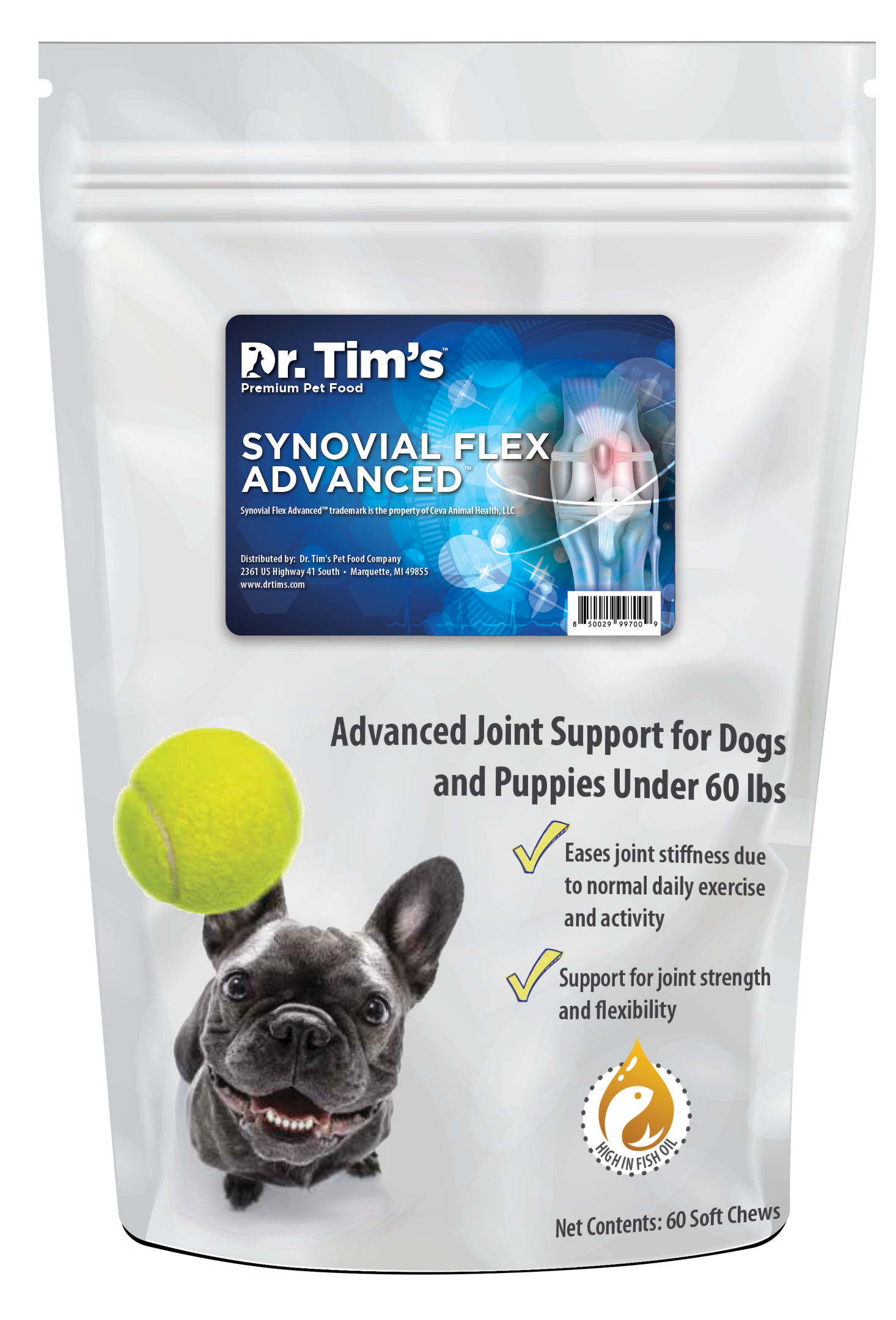 JOINT NOURISHING INGREDIENTS
Active ingredients include glucosamine and chondroitin
IMPROVED JOINT MOBILITY
Great for senior dogs, joint and hip conditions, arthritis, or exercise recovery
CHICKEN FLAVORED
Tasty, soft chew to help ease joint pain
MINI CHEW FOR SMALLER DOGS
Smaller chew for smaller dogs and puppies
NEW, IMPROVED FORMULA
Built upon our previous Synovial Flex formula with improved active ingredients for joint mobility
GREAT FOR MAINTENANCE
Eases joint stiffness due to normal activity
Synovial Flex Advanced (Mini)
Synovial Flex Advanced™ is a soft chew specifically formulated to support joint function.  It offers enhanced levels of key ingredients: glucosamine HCI, chondroitin sulfate, MSM, EPA, and DHA to provide building blocks for synovial fluid, cartilage, and connective tissues.  Dr. Tim's Synovial Flex Advanced™ soft chews are a tasty, multi-modal approach to support joint function and flexibility.
This supplement can be given before or after activity to help prevent and ease joint pain.
Ingredients
Per 4g soft chew:
Glucosamine HCI (shellfish) – 600 mg
Methylsulfonylmethane (MSM) – 400 mg
Chondroitin Sulfate (Avian) – 250 mg
Proprietary blend of manganese sulfate, zinc sulfate, citrus bioflavanoids, alpha-lipoic acid, grape seed extract, and sodium selenite – 75 mg
Total Omega-3 Fatty Acids - 65 mg
.....Eicosapentaenoic acid (EPA) - 40 mg
.....Docosahexaenoic acid (DHA) – 25 mg

Inactive Ingredients: chicken meal, corn starch, corn syrup, dried chicken liver, glycerin, lactic acid, lecithin, mixed tocopherols, potassium sorbate, sodium benzoate, sorbitol, wheat flour
Directions
For use in dogs only. Recommended to support healthy joint function in dogs. May help alleviate the discomfort associated with normal daily exercise and activity.
10-29 lbs = ½ chew per day
30-59 lbs = 1 chew per day
Dosage should be doubled during the initial period of 4 to 6 weeks.
Cautions: Safe use in pregnant animals or animals intended for breeding has not been proven. If lameness worsens, discontinue use and contact your veterinarian. An examination from a veterinarian is recommended prior to using this product. Administer before or after the animal has eaten to reduce incidence of gastrointestinal upset.
Storage: Store at room temperature